AAA Assurance joined hands to support the dear Central region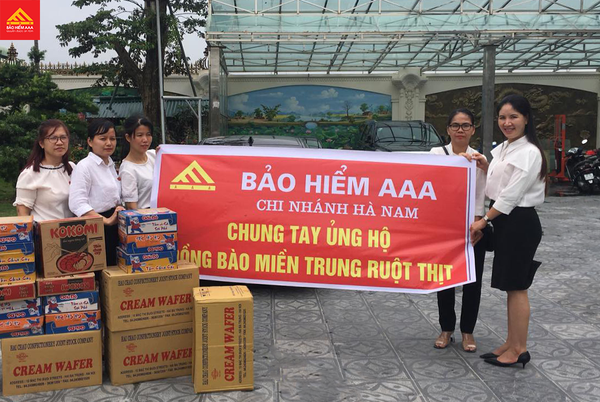 The collective of officials and employees of AAA Insurance, Ha Nam branch, organized a donation to support the people of Central Vietnam in cooperation with the Ha Nam Red Cross Association.
The Central region has suffered from storms and storms with devastating consequences, the damage is not only limited to housing and material, but also many other sacrifices and losses. Understanding this pain, on October 16, 2020, the staff of AAA Assurance Ha Nam branch launched a donation to support the dear people in Central Vietnam, with the support of Ha Nam Red Cross and other benefactors, hope to contribute to helping the Central to overcome difficulties.
It is even more meaningful that AAA collectives are mostly women. However, the sisters do not hesitate to struggle and go a long way to send warm gifts to share difficulties with people in flood areas.
With a tradition of mutual affection, regularly organizing, participating in donations, sponsoring social communities, AAA Assurance always encourages the leaders and employees of the Company to participate in volunteer activities. hands for a rich and beautiful country. For example, this time, AAA wishes to spread the fire of enthusiasm for the community to each member of the company, contributing to the people in the Central region to overcome difficulties and quickly stabilize life after natural disasters.